"I'm struggling to find any cons with the TH2-EVO. It performs exactly the way I need it to–with some of the cleanest and most intense flavor I've ever experienced. CCELL has become somewhat of a gold standard for oil carts, but this new EVO technology raised the bar even higher. It doesn't get much better than this."
Thanks to Vaping360 for the splendid review!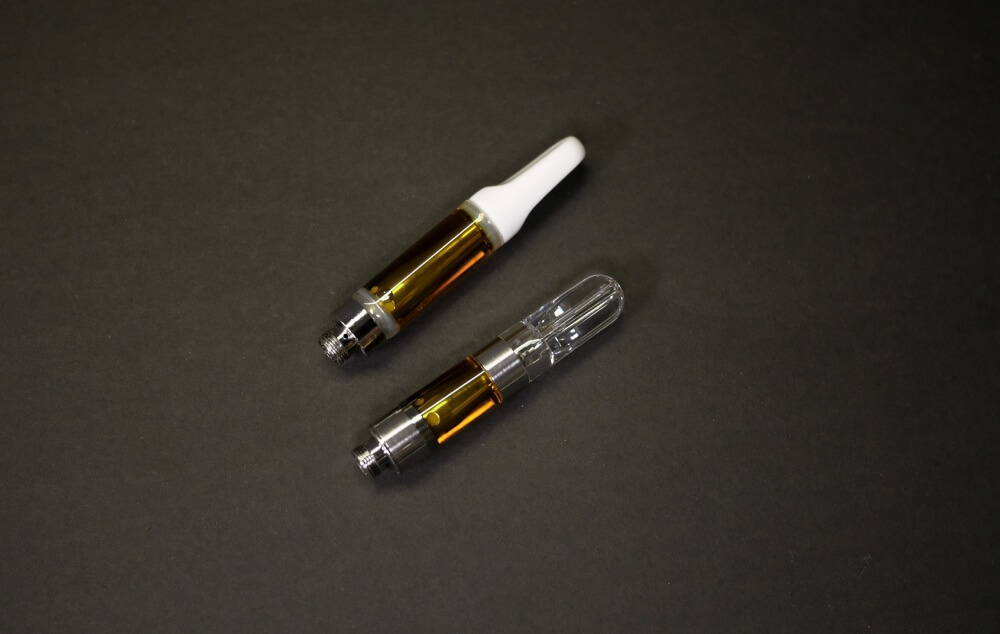 Product intro and specs
CCELL has dominated the cannabis oil vaping market for some time now. They produce the majority of OEM cartridges and vapes for many of the top weed oil manufacturers. The market has become more competitive in recent years. Has CCELL been stepping up their game?
In this review, I will be testing their all-new EVO heating technology, which is featured in the updated versions of their two best-selling 510 carts, the TH2 and the M6T. While I will include information on both, I will be focusing predominantly on the TH2-EVO, which is the more premium option of the two as it features a borosilicate glass body and a ceramic mouthpiece.
EVO technology is said to provide better flavor, bigger clouds, and more consistent vaporization than ever before. CCELL also report that they have reduced the production of harmful byproducts like aldehydes and ketones by 57%. I can't personally verify these numbers–but they sure sound impressive!
CCELL were also kind enough to send me one of their latest 510 thread batteries called the Rizo. I've seen it before but never appreciated how cool it was until I tried one out, so I will be using it to review the TH2-EVO. Let's find out how all this tech impacts the experience I get with this cartridge and vaporizer.
The TH2-EVO and Rizo were sent courtesy of CCELL for the purpose of this review.
Colors: Customizable (OEM)
TH2-EVO Specs:
Standard 510 thread

Tank Volume: 0.5 mL / 1 mL

Dimensions: 10.5 mm × 52/62 mm

Screw-on mouthpiece

Borosilicate glass body

Medical-grade stainless steel center post

Available for customization
Features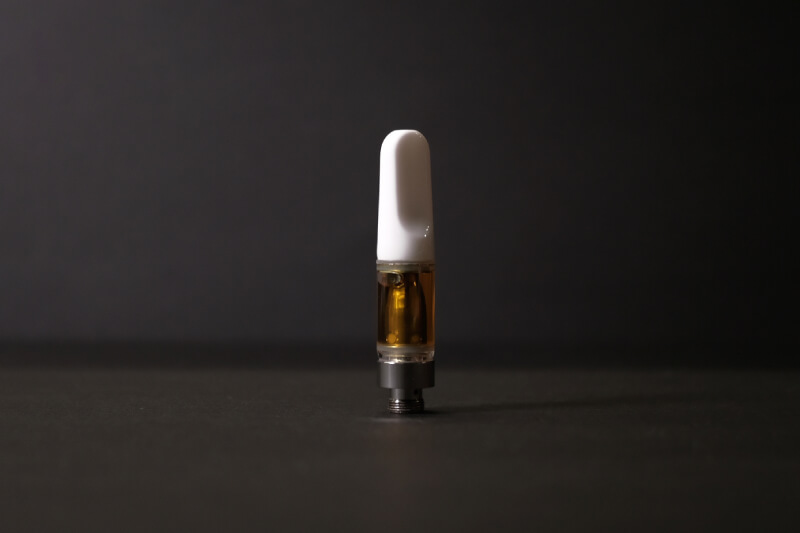 The M6T-EVO features a classic design with a BPA-free thermoplastic body with a press-fit mouthpiece. The TH2-EVO is essentially a more luxurious version of the M6T. It features a borosilicate glass body and a threaded mouthpiece situation. Both cartridges are available in both half and full-gram varieties. They also both feature a medical-grade stainless steel center post–which is a new thing CCELL started doing across all their products in 2021.
For this review, they sent me two half-gram editions of the TH2-EVO. The cart weighs in at about 10 grams when filled with oil. It features a white mouthpiece made of a shiny ceramic material. The M6T weighs less, but it also isn't refillable. So the TH2-EVO is still the more upscale version of the two.
What is EVO Tech?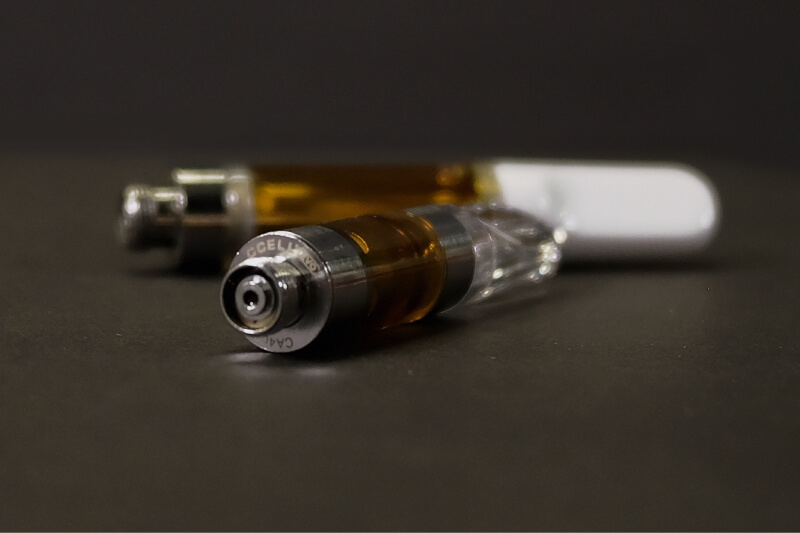 CCELL offers more info about EVO Technology on their website–but here is a brief rundown:
Enhanced taste – 34% more flavor.
Larger clouds – 50% more vapor.
Maximum consistency – 20% more consistent performance.
Ultimate safety – 57% reduction in harmful byproducts (ketones, aldehydes, etc.)
Sustainable solution – New production process that reduces gas emissions by 35%
HTE compatible – Suitable for extra thick oils, including high terpene extracts and sauces.
I'm not sure how CCELL has arrived at all of these very specific percentages, but I'm sure there was a lot of math going on. EVO technology boasts double the vapor production with an improvement in flavor due to better pore distribution of their signature ceramic wicking system. But I will be the judge of that.
The added HTE compatibility is nice, considering that high terpene extracts and sauces are becoming very prevalent in the cannabis oil market these days, and they can be extremely thick. Last but not least, the promised 57% reduction in harmful byproducts is a game-changer for those concerned about health and safety.
Performance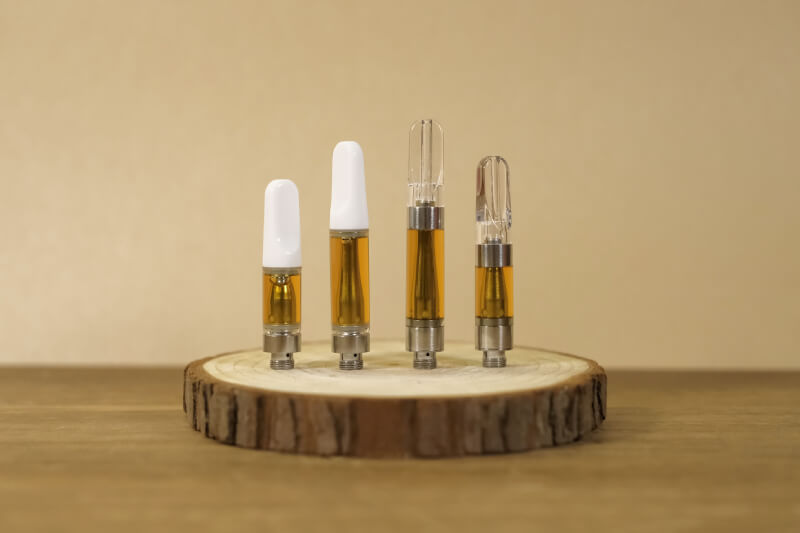 I tested the CCELL TH2-EVO using the thickest distillate I could find. The strain is called Mochi, which is also known as Gelato #47. I was looking forward to enjoying all of those delicious Gelato terps. I loaded up the cartridge and let it wick up overnight. Then, I threaded on the adapter and popped it into the Rizo.
I happen to have an older model CCELL cart filled with some live resin sauce right now. There is no comparison in terms of flavor. I am getting better flavor with this TH2-EVO filled with straight distillate than I get on this previous generation CCELL cartridge filled with live resin sauce! That says it all right there. In addition to that, these new carts put out noticeably more vapor and require less preheat time. The vapor is denser, smoother, and bursting with flavor!
CCELL carts have always been some of the cleanest tasting. With that said, the improvement in flavor with the EVO series is actually noticeable. My nose is tickling with terpene flavor. It tastes extra crisp! Also, no dry or burnt hits at all. I even left the cartridge sitting for a few days, and it never got clogged. I just picked it up and continued vaping on it days later like nothing ever happened.
I didn't actually get to test the M6T-EVO, but it probably performs a lot like the TH2-EVO. The M6T-EVO features the same heating and wicking system and the same medical-grade stainless steel center post, so you can bet the flavor smacks. However, I would imagine that the TH2-EVO has a slight advantage in flavor, considering it has a ceramic mouthpiece and that the main body is made of borosilicate glass instead of BPA-free thermoplastic. That's at least in theory—the difference might not be that noticeable.
I'm struggling to find any cons with the TH2-EVO. It performs exactly the way I need it to–with some of the cleanest and most intense flavor I've ever experienced. CCELL has become somewhat of a gold standard for oil carts, but this new EVO technology raised the bar even higher. It doesn't get much better than this.
CCELL Rizo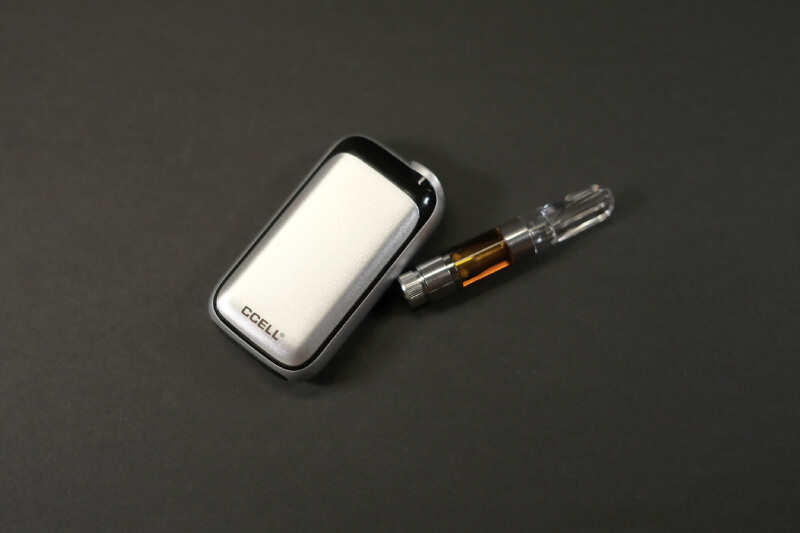 I should also mention that the CCELL Rizo has quickly become one of my favorite handheld oil vapes. It's so high-tech, yet so simple. It's draw-activated, so there's no power button. Just a toggle switch that lets you choose between high and low power. The toggle is hidden behind a rubber plug next to the Type-C charging port, located on the button of the device. This gives it a very elegant and refined aesthetic.
The Rizo utilizes a magnetic adapter. It also provides haptic feedback, so it vibrates when activated. Last but not least, it has decent battery life, charges quickly, and is very small and pocketable. Considering that it retails for around $30, it's definitely worth looking into. Especially if you're in the market for a compact oil vape with good build quality that's high-tech but extremely simple to use.
Pros / Cons
+ Excellent flavor
+ No dry/burnt hits
+ No clogging
+ No spitback
+ No leaking
+ Consistent performance
+ Good build quality
+ Ideal for thick oils
+ Customizable (in OEM)
+ Increased vapor output
- Not directly available to consumers (OEM)
Verdict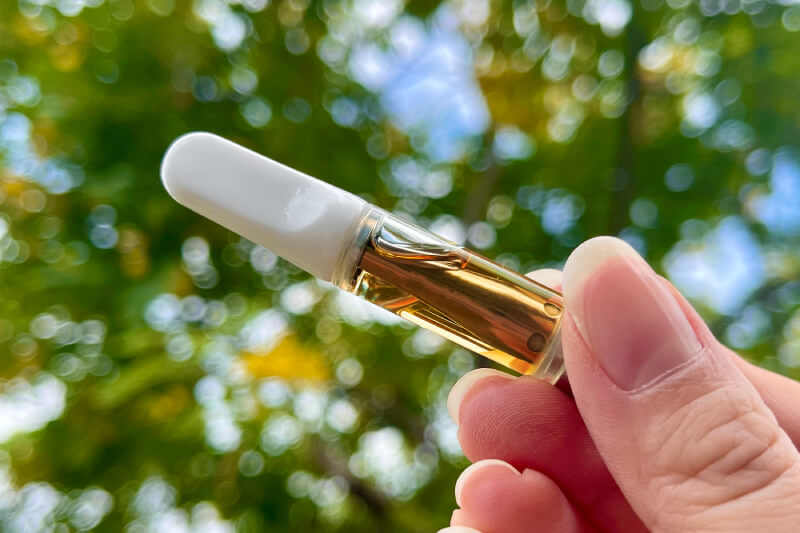 According to my calculations, the flavor is now 43% better. All jokes aside, it's significantly better. You will notice a difference, especially if you do a side-by-side comparison as I did. The difference in flavor was night and day–and that was with distillate in the updated EVO cart versus live resin in the older style cart.
There are virtually no cons to speak of. When it comes to oil, there are so many things that can go wrong. Leaking, dry hits, burnt hits, bad coils, spitback, clogging, etc. And when you're dropping big bucks on an oil cart, you pray that nothing goes wrong. None of that was a reality with this cart.
CCELL already had the game on lock, now they are just dialing it in with stronger performance. It is also worth mentioning that the CCELL Rizo is one of the nicest 510-thread vapes I've ever tested.
The TH2-EVO and M6T-EVO will probably start making an appearance at your local dispensaries soon. They are available for OEM use by cannabis oil manufacturers worldwide.
What do you think about CCELL's EVO heating technology? Do you notice a difference in flavor? Leave a comment below.