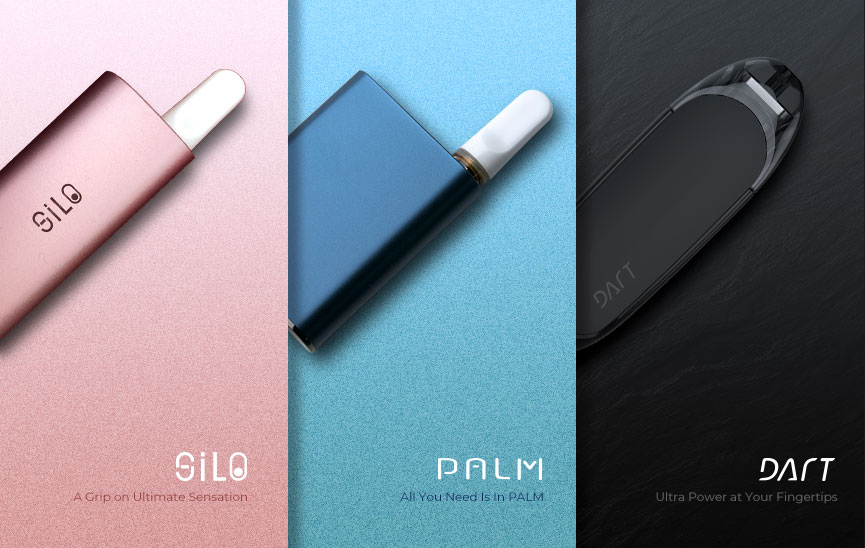 We have been asked a lot by our consumers to help them choose between SILO, PALM, and DART. Let's be honest, it is like asking parents who their favorite child is. All three products are powerful and beautiful in their own way and have different strengths and personalities. We will break it down in this blog post.


PALM – All You Need Is In PALM

PALM is CCELL's first hand-hold portable vaporizer for extracted oil material. It's equipped with a large battery capacity that can generate over 250 puffs with per charging. PALM is slim and square, just the right size and shape to fit in your pocket. It doesn't matter if you want to focus on your work, stay in and chill or go out with friends and party. PALM is always ready to get a good time going.


SILO – A Grip on Ultimate Sensation

SILO is just as powerful as PALM. It has a 500 mAh built-in battery which supports massive vapor production for over a week under conditions of normal use. Housed in aluminum alloy, SILO is sleek, light yet sturdy and works only with extracted oils. Compared with PALM, SILO is taller, rounder but narrower, and has the most ergonomic design in the CCELL product family so far. If you feel like traveling or hiking, SILO might be what you want. Put it in your bag, and grip it with ease in your hand.


DART – Ultra Power at Your Fingertips

DART is the first CCELL product that includes a constant power battery which means it is able to perform with consistency no matter how much battery life you have left. Besides, DART incorporates the first ever CCELL magnetic Pod system. No more screw-on carts or magnetic cart adapters, DART Pod goes full-on plug-and-play, and saves your time for more fun not work.

When DART was first launched, it drew people's attention immediately due to its futuristic look mixed a touch of smoothness the matte finishing provides. If you are looking to have amazing vaping experience with more consistency and in the meantime, up your style game with a cool accessory, DART is your guy.

Choosing the right vaporizer can surely make every session tremendously better. Have you made your decision yet? Let us know!